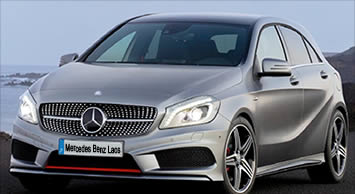 The New 2013 A Class Mercedes Benz
The new Benz A-Class is opening up a new chapter in the compact segment: markedly emotive in design, with powerful engines ranging from 80 kW (109 hp) to 155 kW (211 hp), extremely efficient with emissions from just 98 g of CO2/km and a best-in-class drag coefficient of 0.27. At the same time the new model underlines that for Mercedes-Benz, safety is not a question of price - the standard specification includes, amongst other things, the radar-based Collision Prevention Assist system.
"The company is becoming the most dynamic premium brand in the world. As part of this development, the A-Class represents an important milestone, it is completely new down to the last nut and bolt. In automotive development, it's not often you get the chance to start with a clean sheet of paper. "Our engineers have made the very most of that opportunity", explains Dr Dieter Zetsche, Chairman of the Board of Management of Daimler AG and Head of Mercedes-Benz Cars.